Double Room Comfort Sharing Pool
Bookable for guests aged 13 years and above. Located on the ground floor in one of the annex buildings, these rooms consist of a living room with a single bed and a sofa bed, as well as a separate bedroom with a double bed. Other features include a bathroom with a walk-in shower/WC, hairdryer, and toiletries, a mini-fridge, air conditioning, flat-screen satellite TV, kettle with a coffee and tea set (daily replenishment), espresso machine with 4 capsules upon arrival (additional capsules can be purchased at the hotel's minimarket), and direct access from the terrace to the sharing pool with water loungers, newly built for the summer of 2024.

All rooms have been fully renovated. They feature wonderful, bright colors and luxurious furniture. A sofa bed is also available. Of course, additional services are also provided, including a mini bar and more.

Air Conditioning

Shower/WC

Hairdryer

Telephone

Mini fridge

Satellite TV

Balcony

Wake-up call service

Kettle

Nespresso Machine (4 capsules)

Clothes Drying Racks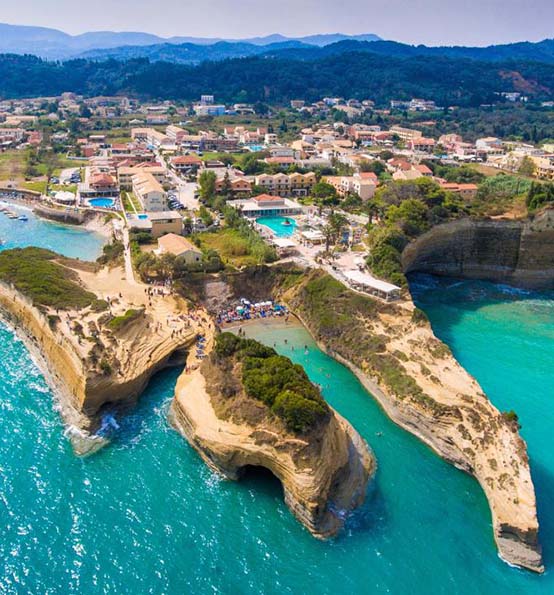 Foreigners call Corfu a corruption of its Byzantine name Koryfo (peak), after one of the two peaks which visitors see as they approach the island.
The highest peaks are those of mount Pantokrator (ancient Istoni, 914 m) and Stravoskiadi (849 m). Agnos – Roda is located on the island's northern part, facing the island of Ereikoussa.
Nestled along the picturesque coastline of Sidari, Corfu, lies the enchanting and romantic Canal d'Amour. This natural wonder, a series of small coves and unique rock formations, has been a beloved destination for lovers and explorers for generations. The name "Canal of Love" reflects the charming legend that swimming through the narrow channel will bring eternal love and happiness.